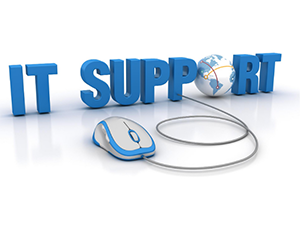 Are you in over your head trying to manage your IT services? Are you or your network exposed? Oftentimes, small and medium sized businesses that try to handle IT support with limited in-house resources rarely know whether they are vulnerable. By outsourcing to a managed service provider, you not only gain peace of mind by increasing security, but you save invaluable time and money.
Fixed Fees
Do you know how much you spent all-in on in-house technical support services last year? Salaries, facilities, training, third-party emergency one-off fixes and consulting on average cost between $100K to $150K. You could save more than 40% per year by eliminating inflated salaries, dedicated office space and the need for emergency service. The fixed fees offered by managed service providers enable you to reduce costs and more accurately budget.
Entire Team of Experts
When you hire an in-house IT employee, you likely assume this employee offers you increased network protection and security. However, this person actually offers limited network monitoring time, limited expertise, and limited opportunity to maintain industry-leading hardware and software. With managed service providers, you get an entire team of best-in-class computer services experts proactively monitoring your networks. These specialists are equipped with multiple levels of experience and specialized knowledge at your fingertips.
Increased Efficiency and Productivity
Between vacations, holidays, and 40-hour workweeks that limit in-house computer support, your business is actually vulnerable most of the time. Outsourcing to managed IT support means 24/7 proactive monitoring by support specialists to mitigate your network downtimes and anticipate risks. It increases efficiency and optimizes productivity allowing your business to grow.
Peace of Mind
With round-the-clock customer service, managed IT offers you protection from threats and support 24/7, 52 weeks per year. Your peace of mind means more time spent focusing on what you do best — run your business. Managed service providers save you time and money with an entire team of industry standard support experts keeping your network secure. The question shouldn't be, "Can I afford to outsource my IT?" It should be, "Can I afford not to?"
Eclipse Integrated Systems is a trustworthy, reliable, world-class managed IT services company with a priority on keeping small to midsize businesses up and running to do what they do best. Providing 24/7 tech support and monitoring, Eclipse offers network management, cloud computing, cyber security monitoring, data backup and recovery, with an emphasis on the health care and private education industries. Learn more about our managed IT services and contact us today for a free network assessment to see how outsourcing your IT will save you time and money.