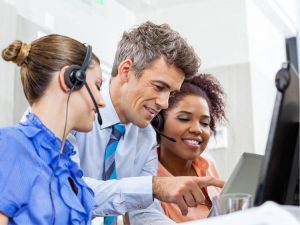 Being in control of your information technology has allowed you to manage your business your way, and your approach has led to success, profits and rapid growth. Congratulations! But with success comes more demand on your time and resources. As you weigh the pros and cons of offloading IT services, you know it will save you money and reduce costs, but you're worried that outsourcing means you have to let go of the control.
The good news is, partnering with an IT company is a solution that keeps you at the helm calling the shots, and here's how:
Data Security
Up to this point, you have been in charge of ensuring your business has followed the ethical and legal guidelines for data management and security in your industry. Being compliant and minimizing risk keeps your business safe but ties up a lot of your time and resources.
Did you know that the experts at managed service providers are chosen for their years of experience and training in your sector to meet your unique needs? Trusting an IT support specialist to share the responsibility of protecting your data mitigates the demands on your time, allowing you to focus on other initiatives while maintaining control of your information's privacy and security.
Operational Control
You may have noticed that as you take on more business, things may be a little chaotic or messy with your IT team. Productivity may be suffering. Your growing company likely has multiple IT projects happening at once. Your limited staff is unable to keep up with project demand, but still demands a large chunk of your budget.
If left unchecked, you will lose control of your business processes — you may have already.
Outsourcing your computer services reins it in, putting power securely back in your hands. Managed IT support companies can proactively prioritize projects and dedicate adequate resources to manage your operations, giving you peace of mind.
Your Way
More often than not, outsourcing technical support comes with a fear of a third party undermining your control. On the contrary — computer support companies work for you.
Every partnership begins by working together to create a Service Level Agreement (SLA). This agreement will define roles and responsibilities, rules of engagement, project timelines, escalations, and communication cadences. Things will get done in a fashion that you are accustomed to, the way you want them to. SLAs give you control.
It's time to change your mind about outsourcing your IT support services. The right partnership will support your growing business and allow you to maintain control.
Eclipse Integrated Systems is a trustworthy, reliable, world-class managed IT services company with a priority on keeping small to midsize businesses up and running to do what they do best. Providing 24/7 tech support and monitoring, Eclipse offers network management, cloud computing, cyber security monitoring, data backup and recovery, with an emphasis on the health care and private education industries. Learn more about our managed IT services and contact us today for a free network assessment to see how outsourcing your IT will save you time and money.