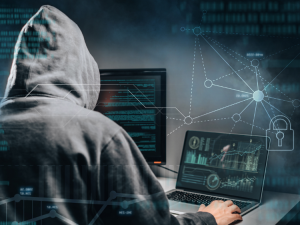 October is Cyber Security Awareness Month. Is there a better time to think about your business processes, your network, your data and the cyber security measures in place to protect your livelihood?
Cyberattacks on small and medium businesses are becoming more and more common. According to Accenture, cybercriminal activity is up 67% in the past five years. The good news? With the right cyber security strategy, cyberattacks can be prevented.
We've compiled a list of the top five things you need to know to protect your business, reduce costs save money and ensure peace of mind.
Cyberattacks Are Costly
A cyberattack can cost, on average, $200,000, a crippling figure to many smaller companies. How does that all add up? Think network and device damage, revenue loss due to unscheduled downtime and the inevitable client loss because of data loss and reputation damage. Don't forget to factor in litigation fees and fines. Some businesses cannot afford a disruption of this scale.
Firewalls, Anti-Malware, Data Encryption Are A Must
The most basic cybersecurity strategy deployed should consist of firewalls, anti-malware tools, and encryption software. Be sure to include every device connected to the network; mobile devices and tablets are easy targets and often forgotten about when it comes to security. These simple steps will defend against massive and costly intrusions on all of your information technology.
Backup Your Data
Data loss is arguably the most costly part of cyberattacks. Without backups, once it's hacked, it's gone. When personal information is lost, not only are you looking at compliance reviews and fines but customer litigation too. Meanwhile, back at the office, you will now have to invest resources and time into recreating databases. Make sure to back up all of your data.
Make Employees Part of Cyber Security
It is essential to understand the significant role your employees have when it comes to Cybersecurity. They are targets and must be appropriately trained to understand the types of threats they are up against, how to spot and prevent the criminal activity, and what reporting and security protocols are in place if an attack happens. It is a lot. Educate but do not fatigue, keep the training fresh and timely and employee-centric. Oh, and make sure they are backing up their data.
The Best Defense Is A Great Offense
If you've implemented everything to this point, you are compliantly defending your network and customer information. However, as cybercriminals' sophistication and tenacity increase, managed it services and cyber security experts are going on the offensive. Computer support teams and outsourced IT services will take an outside-in approach by implementing threat intelligence. Threat intelligence is looking at your business, data, and other assets from a cyber attacker's perspective and understanding what endpoints are at risk. An IT support services team will then funnel support proactively rather than reactively and stop an attack in real-time.
Cyber threats are ubiquitous, costly and complicated but are preventable with a sensible and straightforward approach to protecting your business.
Learn more about Eclipse Integrated Systems' managed security services, and take the stress out of keeping your company secure.
Eclipse Integrated Systems is a trustworthy, reliable, world-class managed IT services company with a priority on keeping small to midsize businesses up and running to do what they do best. Providing 24/7 tech support and monitoring, Eclipse offers network management, cloud computing, cyber security monitoring, data backup and recovery, with an emphasis on the health care and private education industries. Learn more about our managed IT services and contact us today for a free network assessment to see how outsourcing your IT will save you time and money.